Britain's Best Beach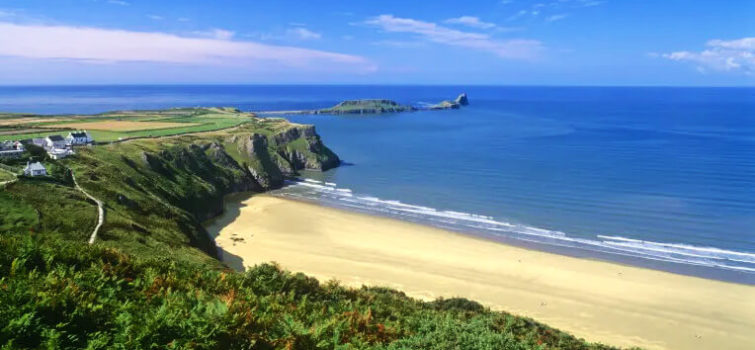 Do you think Rhossili Bay is the Best Beach in Britain? We do – but it's not just us! Having won the title in 2014, Rhossili Bay is consistently in the top 10 in the UK, has been awarded Best Beach in Europe and has even been rated 3rd Best Beach in the World! You don't get much better than that.
We are incredibly lucky to be located just one mile (1.6km) from Rhossili Bay. In fact, we have easier access to the beach. With plenty of car parking at Hillend Caravan Park, there is nothing stopping you seeing it for yourself. You can also walk to Rhossili across the beach, and back across Rhossili Down (or vice versa) to enjoy the spectacular panoramic views.
The beach is over 4 miles (6.44km) of golden sand and is a haven for pet owners and horse riders as they are welcome all year round. Surfers love the vast expanse of the beach and there are plenty of surf boards and wetsuits to hire just across the road from us at the famous Pj's surf shop.
If you want to bring your horse on holiday, there are several stables in the area with plenty of off-road horse riding including the famous beach. Anna also has a very well known Shetland pony stud with a few spare stables, and just up the road is a livery yard that also accepts your equine friends for holidays!
If you are planning your stay with us, please feel free to contact us with any questions you may have. Guests will find a wealth of information available to them on arrival, including maps for walking or riding, tide times and other useful local knowledge. There are many activities for all age groups and abilities available locally – click here to see just a selection of what's on offer.
1 Comment
Judith Gallop 22nd March 2020 at 12:18 pm

Thank you Kings Head for making our stay with you so enjoyable. After a hiccup with our first room, we were quickly moved to another which was beautiful with views down to Rhossili Down. The staff were all excellent & helpful and those in the restaurant equally so. The waiter who served us on each evening (sorry I don't know his name but his wife is Deborah!) was exceptional and sorted a smaller portion linguine course for me with no problem. We shall definitely be visiting you again when all these current problems come to an end. We look forward to receiving your e-mails of offers in the future. Good luck & best wishes through this difficult time. John & Judy Gallop